I
f you know anything about this website by now you've figured out that we really like when winter becomes summer – a little thing called Spring-time. Well, there's nothing that symbolizes the fresh feeling of eternal hope than the literal and figurative migration of baseball players from spring training to opening day. For some reason, more than in any other sport, the start of baseball season insists a sense of change upon every team's fan base. It doesn't matter if every season for the last two decades has produced roughly the same result, as it has for many of the Major Leagues' teams, THIS season could be different. Last season was a cold, icy winter ago. For baseball fans, it's easy to find hopeful predictions for the upcoming season. There are 'maybe ifs', and 'good health-hopes' strewn about MLB preview pieces up and down the internet. Every team has a best case scenario. That's the fun of the calendar turning to April, the bunting hung all over the stadium, and the boys of summer standing on the foul lines. There are things that are going to happen this season. For one, I'm definitely going to day-drink at a baseball game, and saunter into a neighbourhood pub after the game, and feel like this is the greatest day of my life, only to have a headache about three hours later at about 8:30pm. For two, I won't be the only one who does this. Stuff IS going to happen this baseball season, just like it did last season. Just like it did in the other sports' respective seasons. However, as the rawhide hits the leather all across North America this week, we have to at least acknowledge the fact that some 'stuff' might NOT happen. I wouldn't dare spoil the surprise of all the stuff that's going to happen, but I'm not above telling you what won't happen. So, in honour of the longest game in the Majors last season, a 19-inning affair. Here are 19 things that won't happen during the 2012 MLB season.
1) There won't be a repeat champion in either league.
No Cardinals, no Rangers in the 2012 World Series. The Angels can be thanked for this, since Arte Moreno strolled onto both Albert Pujols' and C.J. Wilson's front lawn and dumped giant sacks of cash all over the place. The Cardinals attempt to replace Pujols with the resurrected corpse of Carlos Beltran is NOT going to go well. I mean, it will go fine. They may even win the division and get back into the playoffs, but they're going to look a lot more like the team that was way behind Atlanta in August than the team that took advantage of their collapse in September and got some clutch-hitting on the way to a championship. As for the Rangers, they're the team that you might expect back, but with Pujols in L.A., and Wilson leaving Texas AND adding to L.A., then even a 'good' season might not be enough. They'll battle the Angels the whole way, but another year older over/under-rated Michael Young isn't going to have the same season, Josh Hamilton could crack under the pressure of a contract year, and be doing shots off sexy barmaids by June. I don't think (contract) uncertainty is a good thing for a recovering addict. Mike Napoli's not having the same season, and the whole Neftali Feliz role-switch just doesn't feel right. Nope, we get new World Series teams this year... even if they're still pretty familiar.
going to be extended that he would have gotten out of last year. In general, a career-year is just that, because it doesn't happen over and over again. Verlander will be good, but someone will be better. Let's have a look at the candidates:
C.C. Sabathia: Will have the wins, but the ERA comes up, and the strikeout come down a little. Unfortunately for him, 300-lb 31-year olds aren't like other 31-year olds.
Jon Lester: Would need to improve on last year's numbers some, but there's a chance, if he can throw 200 innings and the Red Sox are the early 2011 Sox, not the late 2011 Sox. Still, a long shot.
Felix Hernandez: Already had his 'great pitcher on a bad team' Cy Young season. He won't get another.
David Price: Now we're talkin'... somehow he was 12-13 last year despite some pretty comparable numbers to Sabathia who was 19-8. That has to correct itself... doesn't it??
Jered Weaver: Here's our guy! Weaver's going to win it. Even if the ERA and WHIP rise, so will the wins (put him down for 20) with the revamped Angels, he'll strikeout 200+ batters as well. Chalk it up. He's our guy.
While we're here, let's do the National League Cy Young race too. The Clayton Kershaw thing was fun last year, and he'll certainly be good again. I'm a fan. However, a little regression and another crappy Dodger team will merely put him in the top-5. We should be back to the Halladay-Lee-Lincecum trifecta of Cy Young candidates. I don't know which one is winning it, but it's one of those guys. Discuss amongst yourselves.
you were Darren Sproles. Nowadays my best chance is at the few Jays games I make it down to each season, again I only get to a couple each year, but I did work for the team during the 2005 season, and was in attendance for 80 of the 81 home games that season and could sit virtually wherever I wanted. Yet, while a few balls soared into my section here and there, they were never closer than just a few humans away from me. I'd like to say this is my year, but I don't even believe that. As an aside, yes, I would give the ball to kid nearby, if only to impress the girl in the row in front of me. I just want to catch one... and no, a ball rolling to your feet doesn't count.
4) The Toronto Blue Jays won't have five players in the all-star game.
This isn't even an indictment of the team this year (that may come later) but more just an acknowledgement that not every player on their team is the next big thing at their position. Also, it's a fun way to bring up the fact that apparently, they had FIVE in 2006! Can you believe that? It's true - Troy Glaus, Roy Halladay, B.J. Ryan, Vernon Wells & Alex Rios. That was the second most in their history! Even in the early 90s, only one time they had more than four! Point is, excitement is high to the point where there was recent television promotion stating that excitement for the team had reached an "all-time high". I realize that hyperbole is part of the deal, but come on, I don't see 50,000+ hitting up the Rogers Centre anytime soon, and it wasn't that long ago that they had 5 All-Stars (and yes, I know the ASG rosters are inflated now). Let's give Romero and Bautista all-star nods again, and then you can pick your favourite out of Sergio Santos, Brett Lawrie, and, I guess, Yunel Escobar. It's three, tops.
5) I won't take a girl on a date to a baseball game.
Awww, that's a sad one. What a bummer! OK, I'll fully admit, this one's a reverse-jinx attempt. I'm not even going to say that baseball game dates are under-rated, I'm going to flat out say that they are probably the best possible date location on planet earth. Think about it. First off, there's alcohol involved which is absolutely critical to early dates (and mandatory for first dates, I won't argue this). You're sitting there, but you're not staring at each other constantly like a couple of weirdos. You're outside, which puts everyone in a good mood. There's good energy in the building/area, and while stuff is happening, it's baseball so nothing crazy is really going on. If there's a lull in conversation you can just watch the game, and it will take about ten seconds to think of something to say since there's a lot of distractions at a game. You can control how close you get physically, especially if it's a night game, when the weather gets a little cool, you can snuggle it up a little. Believe me, people have been knocking this date out of the park for decades. Plus, if the game sucks you can leave early, if it doesn't you both are entertained, especially if the date itself is a zero. Now the price is a little steep, but let's be honest if you can pull off each person buying their own ticket, it costs about the same as some dinner. You're certainly getting better value. The more I think about it, the more I hope I'm wrong on this prediction.
their weirdo 9:30pm EST start times aren't doing them any favours. Too late for the early bed-timers in the east, and if you're watching a game from out west you're probably starting one at 10pm after the 7pm ones are over. The Diamondbacks are always the second best game on. Someone is going to pop up and be the media favourite, with a late season push – Moneybags Votto? Slaptag Posey? Don't-call-me-Mike Giancarlo Stanton? 40/40 Kemp? Shaky Story Braun? CarGo and Tulo probably split both the Colorado vote and the two-syllable nickname vote. Maybe Hanley Ramirez pulls himself together and does some things... or maybe Jose Reyes does? I don't know. In fact, screw it, Upton's not going to win, but he's my pick anyway.
7) Chase Utley won't play in 100 games this season
I have a soft spot for Utley, as he lead my aforementioned fantasy keeper team to a championship back in 2007 and was the centrepiece to a trade that got me both Mark Teixeira and Robinson Cano (I sent back Carlos Pena too, haha) but he just plays the game too hard. He's like Rafael Nadal out there, everything is effort, and you have to commend them for that. His body is breaking down now and it's too bad, because he'll never get the credit he deserves. Between him, Ryan Howard's achilles, and Jimmy Rollins' hairline, that Phillies lineup is starting to look a bit grim. Are we sure they're the odds-on favourite to win the NL?? I guess Halladay, Lee and Hamels still mean something, but yikes. There seems to be a lot of 3-2 games in their future, and that NL East appears not to be the cake-fest that it has been the last few years. I'm not sayin', I'm just saying. You have to score runs to win baseball matches.
8) There won't be any '-mania' or any '-insanity'. Thank God.
Unless, we count the usual Jeter-mania that happens in his various bedrooms. I hate that guy. As for baseball-related hysteria, that's just not really how it rolls, so to speak. Baseball's like a dog, it's always around. Whenever you need it, just flip on the TV, or stroll downtown, sure enough there it is. If you don't want to play with it, you don't have to; it'll be there tomorrow, or next week. My favourite casual-fan discussions happen with baseball fans. They're always a week behind on how the team is doing. For instance, if the local hockey franchise loses four games in a row, it's over a span of 8-12 days. It's a slow burn. The local baseball team can lose five in a row before a long weekend, then take four straight by Tuesday, and if you were at the cottage for the weekend and don't REALLY follow the team, it's not hard to say to Johnny Baseballfan at the office, "those baseball guys aren't doing so well, eh?". Well, actually they've won four in a row, but you were talking about last week's results with your buddy over jerk-chicken at the cottage while the boys were out winning ballgames. The thing is with baseball, no one gets too excited about anybody. Mainly because it's a game where minimal failure is applauded. Moving a run over to second base, via an out, gets applause. Every scoring play has two key components (unlike basketball), there are more scoring plays than hockey (so glory gets spread around), and there's no 6 days of jibber-jabber in-between games to overhype someone for doing nothing all game then fluking out the winning play at the end (like someone we may know in the NFL). Although we could use a good hitting streak, homerun chase, or some sort of legitimate pitching thing. How about a steals record chase?? Oooohhh, can we bring that back?? I miss steals. When I was six I used to run the long hallway in my house that extended into my parents room every time someone stole a base, which, in the 1980s was pretty often. I miss those days. I was safe ALOT.
9) Two teams won't have a major collapse again this season
However, I do think one will.... but it won't matter, because now that there's a Wildcard miniature "playoff" it will have a reverse effect than what we're hoping for in that it will kill any drama in the regular season. Last year, none of that awesome last few days (especially the last day) of the regular season would have happened because the Cardinals and Braves, and the Rays and Red Sox would have known that they only thing that would have mattered was who had home field for their one-game showdown. Now we'll be waiting three weeks for a one game playoff. Which is not really "the playoffs", for those in a certain Canadian market who think this gives the Blue Jays a better chance at the playoffs. I'm sorry, the playoffs are a series. They're the WS, the ALCS, the NLCS, the ALDS, the NLDS. All those 'S's were for 'Series'. You know what gives you a better chance at the playoffs? Winning baseball games. At any rate, I'm sure the MLB would rather have one or two nights where they have the complete attention of SPORTS fans, than a really entertaining three weeks for BASEBALL fans. It's so sad how far we've fallen.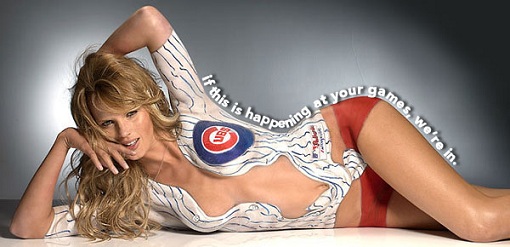 before we delve into 10's Futures, click here for a safe bet

10) I won't make a baseball-related bet this season.
Seriously. For one, betting on individual games, is the biggest waste of time. I mean, it's nice outside, get out there. Secondly, baseball outcomes can be hinged drastically on the smallest of things, and you can't tell me that ball players take every one of their 162 games as seriously as possible. I like to be able to control as much as I possibly can when it comes to gambling. I like the dice in my hands at the craps table, I like to decide whether to hit or stay at the blackjack table, and I like to know the athletes give a shit when I bet on sports. That's why I don't bet on baseball...it has nothing to do with Pete Rose. BUT if I did bet on baseball, here are some Futures bets I might dabble in. (For recreational purposes only)
i) NL MVP: Justin Upton +1200 (duh)
ii) AL MVP: Adrian Gonzalez +750 (more on this later)
iii) Most Homeruns: Bautista +550, Stanton +850, Bruce +3000 ($50 on each guy and you're cheering for dude hitting homers, how fun is that!)
iv) World Series: Cincinnati +1800 (don't actually think they win it, but long odds on a team that's almost definitely making the playoffs is always a good investment, for hedging purposes)
v) NL Champion: Arizona +1200 (similar to the above, though I actually think this could win)
vi) AL East: Toronto +1000 (more specifically, take $10 and bet the hometown team, don't be an asshole, it's fun)
vii) Orioles UNDER 69.5 wins
viii) Diamondbacks OVER 86.5 wins (duh)
ix) Tigers UNDER 92.5 (see Verlander, Justin)
x) Indians OVER 78.5
Let's keep an eye on these, and re-visit them later this season.
11) One of the Nationals or the Marlins won't make the playoffs.
OK, this one isn't exactly out on a limb, and to be completely honest, it's kind of a cheat as well. It's my column gimmick, I can do what I want. Basically, I'm concerned about Philly's lineup. I'm not all-in on Atlanta either, really. So, I think one of these two scrappy upstarts can find themselves in the top-2 of the NL East, and in the mix with the Giants and whoever from the Central lingers behind Cincinnati. The point is, that one of these two teams is going to go over 85 wins, and one is not. I'd lean to Miami going over because they have some good youth at the plate, and the Nationals have to rely on young arms (and an innings limit on Strasburg), but the roads are littered with teams that have tried the free agent stock-up

able to evaluate some of the sketchier areas **cough** **centrefield** **cough** **second base** and then we'll see what happens for 2013. The pieces are coming together, but Gang, they're not ready yet. Hold your horses. The GTA is starved for professional sports success but you can't push it. Even though I know you will. This is how players end up thriving on other teams. Ideally, everyone will be OK with the 86-76 record and even more excited about 2013 even if the Jays are eliminated by mid-September. I mean, let's just figure out if Colby Rasmus sucks or not, can we??
13) Albert Pujols won't be the top-rated fantasy baseball player this season, nor will Ryan Braun.
Does Pujols know his "protection" in the Angels lineup are the dead corpses of Vernon Wells and Torii Hunter?? He needs Kendrys Morales back, and he needs him badly. If the rumours about Ryan Braun's positive performance-enhancing drug test are true, it could be an even longer year in enemy ballparks than it already was going to be. You already know I like Justin Upton. You know who else I like? Adrian Gonzalez. He's been through the Boston media for a year. He's healthy for the first time since everyone was wondering how he could hit so many home runs at Petco Park. He's going to hit 40 homers and hit .300. He'll edge Upton and Bautista as the best fantasy baseball player out there. While we're here, how about we do this year's all fantasy baseball team? Obviously you can't get all of these guys on your team, but if you can get four I think you win your league.
C- Carlos Santana
1B- Adrian Gonzalez
2B- Robinson Cano
SS- Troy Tulowitzki
3B- Miguel Cabrera
OF- Justin Upton
OF- Jose Bautista
OF- Matt Kemp
SP – Jered Weaver
SP – Justin Verlander
SP – Roy Halladay
SP – Clayton Kershaw
SP – Tim Lincecum
RP – Mariano Rivera (yes, again)
RP – J.J. Putz (have I mentioned I like the D-backs this year?)
14) I won't let another summer pass without getting to at least one real ballpark.
Those of us currently based in Toronto all know, Rogers Centre, isn't the best place to watch a ball game. It's a tad cavernous, especially when only half full (which is most of the time), it's an indoors facility 30% of the time. The surrounding area is weak when it comes to post-game activity. This year I'm going to enjoy baseball the way it was meant to be enjoyed – long after the game ends. There are a few must-visits when it comes to ballparks. In fact, let's make a top-10 "To Do" list.
i) Wrigley Field – the holy grail of parks, Wrigleyville is not just something to do before you die, but something you need to do before you hit 30... or in my case, 31.
ii) Fenway Park – lost the top spot over the years, once people started showing up in pink Sox hats, still a must-see but you can wait, since it's lost some of its purity and tradition with all the marketing hype that ownership has taken advantage of
iii) AT&T Park – a surprise in at number three, thanks to McCovey cove
iv) Yankee Stadium – loses some cache since all the important history happened across the street, but it's still Yankee Stadium, ya know?
v) Busch Stadium – baseball fans in their element
vi) Dodger Stadium – lots of history, and an interesting crowd
vii) PNC Park – seriously! All I've ever heard is good things about the stadium and the post-game scene
viii) Camden Yards – the original new-old ballpark, problem is the Orioles play there
ix) Petco Park – beach beyond the outfield fences, a grass hill to chill on, and by the way, you're in San Diego
x) Safeco Field – like Camden Yards, the biggest problem is the home team, but a ballgame in the Pacific Northwest couldn't possibly be anything but fun
15) The race in the AL East won't be as close as people may have you believe.
Feels like time for a 'what we know':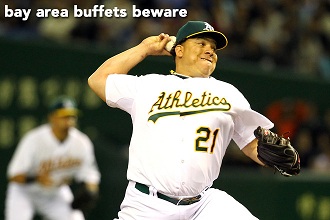 We know... the Yankees won the division by six games last year.
We know... they did so with only 373 at-bats from Alex Rodriguez
We know... they did so with A.J. Burnett pitching the second most innings on the team with a 5.00 ERA
We know... they've added Hideki Kuroda and Michael Pineda to replace Burnett and Bartolo "Buffet" Colon
We know... the Red Sox crashed and burned due to poor starting pitching, at the end of last season.
We know... they "solved" that with rookie Felix Doubront, and short reliever Daniel Bard.
We know... they're hoping for 200 innings out of each of Lester, Josh Beckett and Clay Buchholz
We know... that Beckett's done that once in the last 4 years, and Buchholz has never come close
We know... that Kevin Youkilis's body didn't adapt well to playing 3rd base last year
We know... that Jacoby Ellsbury's season of last year isn't likely to be repeated
We know... that Nick Punto and Mike Aviles are slated to play shortstop for the 2012 Red Sox
We know... that Dustin Pedroia plays the game just as hard as aforementioned Chase Utley
We know... that Carl Crawford is a 30-year old "speedster" who stole 18 bases last year, and has never hit 20 homeruns.
We know... that the only man in the Rays lineup that scares anyone other than Evan Longoria is, maybe, Desmond Jennings.
We know... that after a nice .333 start to his big league career, Jennings hit .190 in September
We know... that Longoria hit .244 last year
We know... the Rays 3 best starters last year pitched well over 600 innings last year at around a 1.10 WHIP
We know... that despite all those quality innings, they combined to go just 41-35
16) You won't be able to guess where the All-Star Game is this year, even if I give you five tries.
Go ahead, grab a pen and a scrap piece of paper, and write down five cities where the All-Star Game could be held. I'll wait...
I'll even give you a hint. It was in Phoenix last year, so it's an American League park this year. Another hint- It's going to be mercilessly hot there. OK, one more – it's not California or Texas. Do you have all your guesses written down?? Good. The answer – Kansas City. Yep. No, I don't know why. Sure, it seems like a good baseball town, not that we'd ever really know since they haven't been decent in 25 years. They don't have a new ballpark (just a renovated one), though it does have the fountains. At least it will be a barbecue enthusiasts wet dream, even if it means they'll be literally soaking wet with the sweat-inducing humidity.
17) The San Diego Padres won't be nearly as bad as people think.
Even after trading future ace, Mat Latos, the Padres still have four starters coming back from last year with ERAs under four, and that doesn't include Edinson Volquez. Their bullpen is always good, and Huston Street will close for them nearly as well as Heath Bell did last year. So, all they really need, as in every year, is more runs. While they're not going to score a ton, Cameron Maybin should take another big step. Yonder Alonso should be a doubles machine, and if Jesus Guzman develops, and Kyle Blanks can (finally) come into his own, then maybe they'll have more than one player with double digit homers this year. I'm not saying they'll make the playoffs, but they'll cause problems to the tune of about 75 wins.
18) I won't get the following World Series prediction correct.
Ok, so here's how I think it shakes down:
American League:
Division Champs: Yankees, Tigers, Angels
Wild Card: Red Sox vs. Rangers
Division Series:
Angels over Rangers
Yankees over Tigers
ALCS:
Yankees over Angels
National League:
Division Champs: Marlins, Reds, Diamondbacks
Wild Card: Phillies vs. Giants
Division Series:
Phillies over Reds
Diamondbacks over Marlins
NLCS:
Diamondbacks over Phillies
World Series Champion: New York Yankees over Arizona Diamondbacks
19) I won't play in more than 2.5 base/softball games this summer.
And that sucks. My schedule doesn't allow me to be able to commit to a softball team, but if anyone is looking for a part-time soft-handed second baseman with gap to gap power, who is willing and able to consume copious post-game beers, please inquire via the email below. If not, I'll have to settle for one or two company organized softball games this year, and numerous games of catch at the cottage. Oh well. Enjoy the season, everybody.