Welcome to our regular Friday feature "Three Pitchers", where we end the week sharing a few casual beverages, and before you know it we've split three pitchers and hashed out an equal number of thoughts on the topics of the week. We've always thought this site should sort of replicate, as best you can, the experience of sitting at a bar and having a few beers while talking about different life, sports and popular culture topics. As you know, often times with the help of that extra beer or two, there's a tendency to veer off into larger scale discussion, whether it be some sort of ranking, or rule-making. Other times you meet up with a good friend and share your unique takes regarding the recent goings-on. Some light reading on a Friday afternoon...

"Ok, give it me, the Blue Jays and Alex Anthopolous get wild and crazy with a massive trade, a semi-controversial signing and an 'All-in trade'. What's your take?"
Obviously, the immediate reaction from any non-super Jays fan should probably be something along the lines of 'Eeeeeeeasy, big fella'. However, in this case, the fervor is as close to appropriate as it could be. Especially with regards to the trade. Before we get to that though, we need to discuss the Melky Cabrera signing. If you had asked most Jays fans about Cabrera they would have said something derisive about him being busted for a positive test, and those who are a little more knowledgeable would wonder why the Giants didn't let him play once he was eligible. Let's have a quick look at the facts. Cabrera went the first five years of his MLB career, with career highs of a .280 average, 13 home runs and 67 RBIs. Those were his BEST totals. He had a poor season with the Braves and became a free agent for the first time. He was looking at being out of the Majors. Where do people sign when they're running out of options? The Kansas City Royals. He gets a one-year deal, worth just over a million bucks. His last chance. To literally everyone's surprise, he has a great season, hitting .305, 18 HR, and 87 RBI, and steals 20 bases. All career highs. Despite the breakout season, the Royals trade him to the Giants for Jonathan Sanchez, who is no longer in the league. Cabrera plays even better for half a season, before getting suspended 50 games for a positive test. He doesn't even deny any misuse of PEDs. Now, the Jays need a leftfielder (supposedly), but let's say a non-drugged up Cabrera at least finds a middle ground between the .320/20/100, and the .275/10/60 guy. Let's say we can count on him for .285/15/80. Is that better than what the Jays were going to roll out there? Do we need a 'convicted' drug cheat on the team? Does that just get ignored?? Especially in a place that was once a mecca for illegal PED use.
Of course, people are willing to ignore this when you make a huge trade, AND seperately acquire a Cy Young winner. Before getting to the Marlins deal, let's talk briefly about R.A. Dickey. His addition is more than just about baseball, he's a guy who can speak for the group. Jose Bautista was the leader of the hitters, but he could never speak for the pitching staff in a legitimate way. That's just how baseball works, those groups are segregated by nature. Dickey can talk. He will be the leader of the staff, regardless of who the best guy is numbers-wise. Morrow's not a leader-type, neither is Josh Johnson, Romero could be, but he has to be better. A lot better. Everything that needs to be said about Dickey's pitching potential for the next three years has already been talked about, however not enough is being made of how changes that rotation behind the scenes.
Now, it seems like after the big trades, people are ready to just get excited about any addition the Jays make as though the team is now a lock to win the division. Is it a lock? Of course not. Did the trades help? Hell yeah, they did. While the Dickey trade was a legit trade where both teams got good value, the Marlins deal was theft. Usually with a Toronto-franchise trade, there's some asshole who feels the need to take the contrarian angle even if there's none to be found. I was anxiously waiting for someone to say something as small as "but what about Hechavarria??". I haven't read or heard anything like it. This was just a flat-out theft. Maybe not long-term, but none of the guys they gave up are going to be good enough that it will make the deal regrettable. Jose Bautista was getting angry. His prime (which came late) was getting wasted, and now he's appeased. A healthy and happy Jose Bautista is worth 5-8 more wins this coming season than last. Next year will be 20 years since the last playoff appearance for the Blue Jays. Everyone knows this. Grabbing a bucket of B+ prospects, and a guy that was on his way out the door anyway (Escobar), and dropping them off at a dock in Miami for Jose Reyes (a legitimately super fun player to watch when healthy and on a good team), Mark Buehrle (younger than I thought he was, and reportedly one of the better team guys out there*), Josh Johnson (healthier than I thought he was, and a potential top-5 in the AL guy if he can get back to form), Emilio Bonifacio (my prediction as that second-tier fan favourite that every good team needs – a guy who'll be out there running around making plays all over the field, and stealing bags), and John Buck (a legit backup catcher at least) is a complete no-brainer. By now you've probably heard the anecdote that apparently 'Double-A' told a friend that he was working on a dream trade, but that he didn't think it would happen. It's an interesting picture, that a giddy Anthopoulos would have to talk to someone about this crazy deal that he might be able to pull off. Which makes me think there could have been some funny exchanges in the Jays offices. Here's a few things that might have been said/texted/emailed from Alex to the Jays offices last week.
"Hey, talking to Michael Hill, at the bar here in Indian Wells. I think he may have a drinking problem."
"Have you heard of any Larry Beinfest dong photos that might be leaked on the internet?"
"Can you google "Jose Reyes" and "Horrific offseason chainsaw accident", just in case I missed a headline somewhere?"
"We need to see if there's any precedent on a league overturning a trade because blatant fraud involving publicly funded buildings"
"In our depth chart for the Marlins, there's only one Josh Johnson listed right? Are we sure there isn't another one in the minor leagues?"
"What did we pay Redmond on his way to Florida, to talk up Marisnick and Nicolino to their brass?"
"Seriously, Jose Reyes is still alive, right? Someone's heard from him?"
"Yeah, and they don't even want us to take Ozzie!"
*Quick Buehrle story – Years ago, during the season I worked for the Blue Jays, I had to call around to other teams to ask them about something to do with their ceremonial first pitch. The people at the White Sox told me that Buehrle was always the guy who caught the first pitch. It was his thing. He liked going out before the game (on days he didn't pitch), and greeting the person throwing it, and signing a ball for them, etc. Seems like a cool thing to do.

" Ok, we're halfway through the traditional television season, and you haven't wrote about television yet this 'season'. Are you still scarred by the cancellation of last year's 'dct recommendation'??"
I think we know well-enough that I don't get gun shy about being wrong. There's certainly ample evidence of failure to show that we here at dontconfusethis get right back on the horse. So, let's do it. Let's talk some television, in point form:
a) Homeland – Cranking along well, but hard to see where it's going. Which is actually the beauty of the show. Even if the storylines are annoying, you don't know what's going to happen next. I've enjoyed Carrie's insanity, but the whole Carrie-Brody thing is just too much. It's ridiculous. We get it, she's crazy, but come on. She knows he strapped a bomb to himself. Who still wants in on that? My god, woman.
b) The Walking Dead – Thank God Lori's dead. What? She was awful. Everyone knows it. It's official, pretty much anyone other than Rick, and (I'd like to think) Carl could die at any moment. The double-kill from the group early on was almost too much. In fact, Lori's C-section scene WAS actually too much. As bad as season two was, season three has been that good. The addition of a separate storyline was critical, as I'm fascinated by the Governor. If you're not watching The Walking Dead, you're making a huge mistake. It's just a good (if at times overwhelmingly gross) hour.
c) Revenge – My admiration for the show's star has been well-documented, but the show itself continues to get better. I used to watch with my brain half-on after a long day of emotionally draining football watching. Now I actually have to pay attention! Who the hell are these 'Initiative' people? I still haven't figured it out. The casting is under-rated, and while the writing can be a little cheesy, it's still highly enjoyable, and they've taken it up a notch this season, getting more complicated with the plotlines.
d) Elementary – Our nominee for new show of the season! For the uninitiated, it's a modern twist on Sherlock Holmes and Dr. Watson. With the most significant twists is that Watson is a woman (Lucy Liu), and that Holmes is an addict, that Watson is paid (by Holmes' father) to watch and keep on the straight and narrow. Almost inexplicably, Holmes is allowed by the NY police department to help investigate murders. It's just a more enjoyable version of the CSI-type shows, where instead of forensic clues, behavioural and circumstantial clues that only Holmes can decipher are what solve the crimes. Given the characters background, there's naturally more character-based stuff that happens along each episode, which is also big with me. It's not as complex as Awake was, so hopefully the audience will be big enough that it can make it past a first season.
e) Nashville – Doesn't quite get the seal of approval (and possible death blow) as the official new show of dontconfusethis.com, but I'll say simply that if you're throwing Hayden Panettiere in short shorts and a cowboy hat on TV on a regular basis, I'm pretty much signing up. Add in Mrs. Coach from Friday Night Lights, and a sea of young actresses with southern actresses in cowboy boots and sundresses, I'm not even sure what the show is about, but I'm also not sure that I care. Truth is, the show's plotlines feel very Dallas-y, not that I ever saw Dallas, but I presume there was underhanded politics, love triangles, and questionable career-driven moves all over the place. I wouldn't have even found the show, if not for having one of the best days of my life in the city of Nashville when I spent exactly 24 hours there a couple of years ago. But that's a story for another day.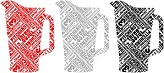 "Ok, so by and large, you were silent about the NHL lockout. Now that it's over, you must have a take about it all, or even just the stuff going on around it???"
I'm really disappointed with my prediction of hockey by December 15th being off by a full month. Except I'm not, since I'm all for a 48-game season. I'm not crazy about having this thing run on until late-June. That's going to be murder for whomever loses the Stanley Cup final, as they're pretty much toast for next season. As for the lockout itself, I'm only fascinated by the fact that for some reason we have to both anoint a 'winner' of the lockout, and we have to lay blame for the lockout to one party or the other. There's ALWAYS two parties at fault, just as there is in relationships. Sure the owners may have banged some slutty waitress at some point but I'm guessing the players did something out of original character to make them want to do it. At the end of the day, the real metaphor though, is the fans as the jilted boyfriend/girlfriend, and the league as a whole who spent six months clearly disregarding the feelings of the fans, only to come back with a flowers in hand and a bullshit smile. Sadly, I think the pathetic hockey fans will be right back into bed with the sketchy NHL as though nothing happened. I'm not saying we can't watch, that would be hypocritical to how we've reacted to every other work stoppage in every other industry. Television writers went on strike a few years back, but I'm still banging out episodes of How I Met Your Mother once a week. Am I buying "Legen... Wait for it... Dary" t-shirts?? No. So here's how we handle this, Gang:
1) Unless you've already paid for season tickets (from having to do so to secure playoff tickets last year), you don't go to a game this season. There is NO reason why there should be a single game ticket purchased at any arena, anywhere, during the regular season.
2) No merchandise purchases of any kind. You can wait a year to buy that Leafs hat.
3) If you get free tickets, you can go, and you buy food, but sneak in a mini-bottle of booze... or two. It'll be the best at-game drink you've ever had.
4) Don't devalue this season because it's short, encourage it. The playoffs are the only thing that matters anyway, regardless of how long the season was.
5) Instead of arguing about hockey with someone, shake their hand and say "Listen, the fact that we're even talking about this thing with any amount of intensity is embarrassing. We're better than this."
Anyway, I'm glad we had this talk. Should we get a Burkie Dog?? Ooops... too soon???